Raypak
M5198
Digital Pool & Spa Heater - Propane, 0 to 2K Elevation
Item #:

AMM5198
MPN : M5198
BTU Selection
Back ordered products usually ship in 1-2 weeks. Contact us for more detail.
Raypak M5198 Digital Pool & Spa Heater - Propane, 0 to 2K Elevation Description
Soak it all in, you deserve this.
The sleek and stylish Raypak Digital Gas Pool and Spa Heater features innovative technology designed to keep your pool or spa at the perfect temperature for your enjoyment. Built to withstand various weather conditions, this modern pool and spa heater is the perfect solution for environments requiring efficiency, convenience and versatility.
Thanks to a brilliant low-profile design, corrosion resistant cabinet made of galvanized metal, copper fin tube heat exchanger, and a bevy of advanced-engineered materials, enjoying your heater year round is a breeze.
Features:
ProTek Shield is a cutting-edge module that protects the heat exchanger and extends the life of your Raypak Digital Gas Pool and Spa Heater. Rest, soak or swim knowing that your pool heater investment can be enjoyed even longer thanks to this innovative, patent-pending technology.
• Excellent for use in chlorinated and salt water pools
• Engineered to take the brunt of the corrosion that naturally occurs over time (erosion of the ProTek Shield means it's working!)
• Utilizes breakthrough patent pending technology
• Compact design Easy to replace, saving you time and money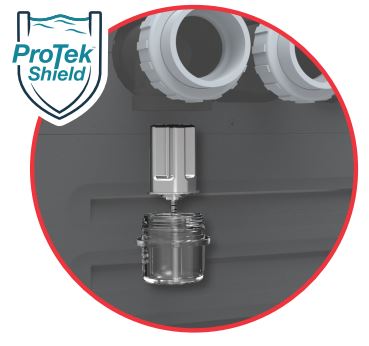 PolyTuf Textured Powder Coating
The Raypak gas heater has a polyester-coated, non-corrosive cabinet that is more durable than solvent-borne and water-borne coated metal cabinets. Every piece of sheet metal goes through a 7-stage wash system. making certain the power paint has a perfect bond. Underneath the tough, yet beautiful finish you will galvanized metal that offers superior rust prevention and years of durable service.

Wind-Resistant Design
No need for fans to combat drafting problems under normal conditions. This heater is designed to draft naturally in outdoor installations with its exclusive low-profile design. It is so thoughtfully and carefully designed it actually protects itself from the things that tend to stifle ordinary pool and spa heaters. It delivers uninterrupted heating performance regardless of falling leaves, wind, airborne debris, rain, downdrafts, updrafts, sleet, snow, etc.

Control Options
These units are available with two different control designs to meet your requirement. They are available with digital electronic ignition, or as a millivolt design. The digital system (pictured) requires external power (120VAC or 240VAC) and generates a pilot only when there is a call for heat. It provides simple setup and easy programming, as well as easy-to-understand diagnostics and simple connections to remote controls. The millivolt ignition system does not require external power. It generates its' own current internally, with a small thermo couple driven by the constant pilot. The millivolt ignition system is not available in California for natural gas units. See Digital vs Millivolt for more details.


• Microprocessor Controlled Thermostat
The Raypak Digital gas heater comes with a microprocessor based thermostat control. This control allows you to set your pool or spa temperature precisely at your favorite setting just by pressing an up or down temperature control button. The Digital display gives you a constant read out of your pool water temperature. Just set it, and forget it! Truly simple.

• Self Diagnostic
Troubleshooting a gas heater has never been easier. The Raypak Digital has on-board diagnostic controls that let the user and the service professional know what is going on with the heater at all times. In the event that you would ever have a problem with the heater, the digital display will show where the problem is in the control circuit. It's like having a service technician built into every heater!

Wind Resistant Cabinet• Polytuff Powder Coating
The Raypak Digital has a polyester coated, non-corrosive cabinet that is more durable than solventborne and waterborne coated metal cabinets. Every piece of sheet metal that gets powder coated goes through a 7-stage wash system making certain the powder paint has a perfect bond. Underneath the tough and beautiful finish you will find galvanized metal that offers superior rust prevention and years of durable service.

The Raypak Digital incorporates the latest in header design technology. Raypak's state-of-the-art engineering department utilized the latest in 3-D computer aided design to engineer the part for optimal performance. Polymer• All Copper Fin Tube Heat Exchanger
All Raypak Digital gas heaters come standard with integral copper finned tube. This means that the fin tubing is made from one piece of extruded copper tube. Since the fins are integral to the tube, maximum heat transfer is attained. Every Raypak Digital has the same robust design tube bundle that we use in our large gas commercial boilers.

• Stainless Steel Tube Sheet
resin headers. This allows for a completely nonferrous waterway leaving your pool truly rust-free.

• Fuel Efficient
Combustion Chamber Quality
• ISO 9001
Raypak is proud to be a ISO 9001 registered manufacturing plant. One more reason why Raypak is number one in the heater industry today.